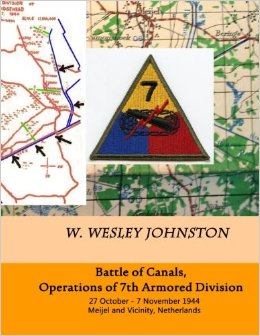 Battle of Canals, Operations of 7th Armored Division:
27 October - 7 November 1944, Meijel and Vicinity, Netherlands
(transcribed, annotated and fully indexed, with introduction)
Available on Amazon.com. Click here to order on Amazon.com.
The Army's Information and Historical (I&H) troops assigned to 7th Armored Division conducted dozens of post-combat interviews after 7th Armored Division stopped a 27 October 1944 German attack centered on Meijel, Netherlands, and then began driving the Germans back over the following week of November 1944.
This book contains the following sections:
Modern-day introduction and background by Wesley Johnston
Robert E. Merriam's contemporary "Battle of Canals" narrative (includes 2 maps)
Robert E. Merriam's notes used in preparing the "Battle of Canals" narrative