Vittonville, France Memorial to
13 Men of 23rd Armored Infantry Battalion, 7th Armored Division
Killed in the Liberation of Vittonville September 1944
Bookmark this page as http://www.7thArmdDiv.org/mon-vittonville-2017-09-16.htm
Last updated: October 2, 2017 - What's New?
Stuck in someone's frames? Click here to break out.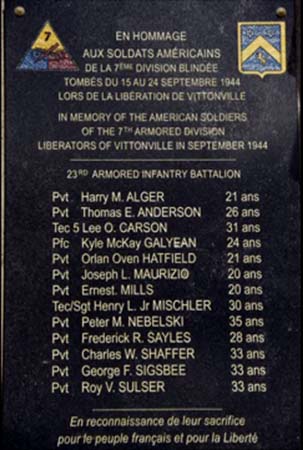 Click on image for full size.
On September 16, 2017, a new memorial was dedicated in ceremonies at Vittonville, France, as a memorial to 13 men of the U. S. 7th Armored Division's 23rd Armored Infantry Battalion, who died in the combat to liberate the town. This web page contains information about those ceremonies.
The plaque reads (in English) as follows.
In memory of the American Soldiers
of the 7th Armored Division
Liberators of Vittonville in September 1944
---
23rd Armored Infantry Battalion
Pvt. Harry M. ALGER - 21 years
Pvt Thomas E. ANDERSON - 26 years
Tec 5 Lee O. CARSON - 31 years
Pfc Kyle McKey GALYEAN - 24 years
Pvt Orlan Oven HATFIELD - 21 years
Pvt Joseph L. MAURIZIO - 20 years
Pvt Enrest MILLS - 20 years
Tec/Sgt Henry L. Jr MISCHLER - 30 years
Pvt Peter M. NEBELSKI - 35 years
Pvt Frederick R. SAYLES - 28 years
Pvt Charles W. SHAFFER - 33 years
Pvt George F. SIGSBEE - 33 years
Pvt Roy V. SULSER - 33 years
---
In recognition of their sacrifice
for the French people and for Liberty
---
Dedication Ceremonies - 16 September 2017
Here are some of the 32 photos of the dedication ceremonies taken by a photographer of the newspaper L'Est Republicain and provided by Jean-Marc Samson.
Click here for the PDF file of all 32 photos.
Click on an image to see it full size.

1 - Unveiling by Local Children


2 - Site of the Plaque


3 - Citizens


4 - Young Citizens


5 - Mayor ???


6 - A Nos Liberateurs
To Our Libertators

.

.
---
---
Click here for information about contacting me.

7th Armored Division Web Site Main Page
Active overview of all pages at the 7th Armored Division web site